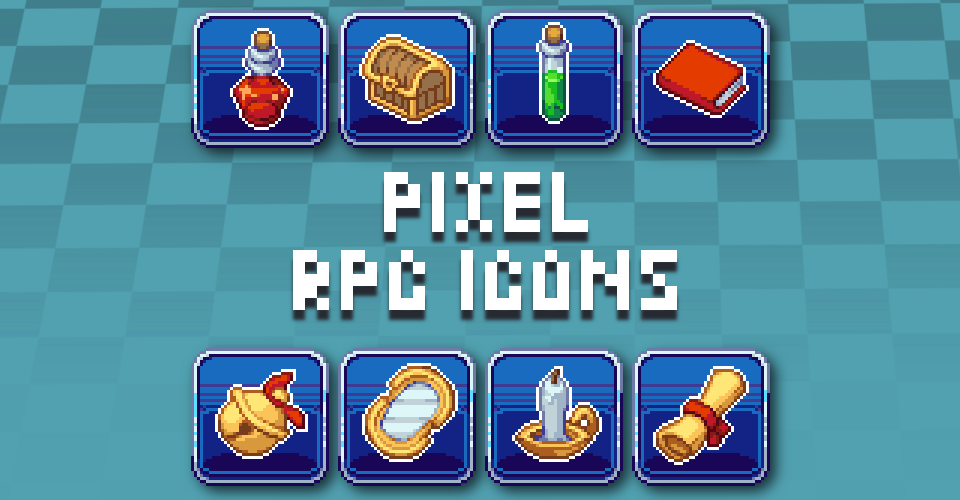 PIXEL FANTASY RPG ICONS
A downloadable asset pack
Get this asset pack and 5 more for $74.99 USD
View bundle
These icons can be used for any engine or any purpose.

The pack contains 87 different icons including:
Potions
Herbs and ingredients
Plants
Papers, envelopes, scrolls
Books
Candles and lanterns
Instruments
Various accessories and puzzle pieces
Each icon comes in three different sizes: 32x32, 24x24 and 16x16.
They can be used for whatever you see fit - gamedev or otherwise! Please read the Terms of Use when you download!
RELATED ASSETS:


Purchase
Get this asset pack and 5 more for $74.99 USD
View bundle
In order to download this asset pack you must purchase it at or above the minimum price of $16.99 USD. You will get access to the following files:
MV Icons PACK 1.rar
433 kB
Download demo
Comments
Log in with itch.io to leave a comment.
Hi Caz was wondering if you are accepting requests for future projects.
Hi! Yes for sure, I'm more than happy to take suggestions! :D
Thanks you Caz, I'm currently working on a bakery shop for a medieval rpg, was wondering if in the future there could be something along the side like a : White loaf of bread, cross buns, dough, cacao, a balloon whisk, pie crust, pie pan, and a more variety of cakes and cookies. again thanks you Caz.
Ohhh these are lovely ideas! I'm working on some small, upcoming packs at the moment but definitely gonna add those to my list, thanks! :>
Hi, just want to re-confirm. Can we use a purchased asset to more than one game?
Or it just licensed as a single product (one license for one game only).
Yep, once you own it, you can use it as many times as you'd like. :D
Do your paid assets require author credit in my games? I see that your license for free assets require it which is understandable, but would like to know what your purchased assets license is before I buy. Thank you!
Hey there, thanks for getting in touch! If you've purchased the assets, there is no obligation to credit them. :) Here are the full Terms of Use:
"These icons were created by Caz Wolf and
are available for purchase on itch.io:
These icons are not to be used in commercial
projects without being purchased from the
above itch.io profile.
Once the pack has been officially purchased,
the buyer is now a license holder of this pack
and has permission to use and edit these icons
for use in apps, games, or whatever purpose
they like.
HOWEVER these icons cannot be redistributed
to other parties who have not purchased it.
-------------------------------------------
Please direct any questions to my itch.io profile,
or you can contact me on Twitter @cazwolf
Thanks so much for your purchase, and I hope you
enjoy the pack!"
Will There be a 16x16 pack available anytime soon ?
Hi! Sadly I don't have any plans to make 16x16 icons in the near future as I prefer to work with 32x32, but I have a friend called Jacki who recently released a pack of smaller icons over here if they interest you! :>
Good news! I'm trialing out how popular 16x16 and 24x24 versions of my icons will do, so you can re-download the pack to get access to the new sizes. :D
Hi Caz! We are making a haunted-manor/halloween game and seen your halloween icons. When you say "These icons are available for use in non-commercial and paid projects, " do you mean I can use it in commercial projects? Here it is our game: https://www.facebook.com/morganadungeoncrawler/?modal=admin_todo_tour The item size in the game is currently 24x24 so I should downscale 32x32 a bit (I can do that and show you the results before posting anywhere). Please if you want to answer mail me at jaume.alcazo@gmail.com which is my most active account.
Your other assets are lovely as well and would like to use them/downscale them if allowed in commercial projects.
Check out the first gameplay video of the game: https://www.youtube.com/watch?v=GXQ-a8ZHGaI
Hey, thanks for getting in touch! Sorry for not being clear, but yes you can totally use all of my icons in commercial projects. Once they've been bought , you can do whatever you like with them. :D That applies to my free assets too - feel free to go wild! Good luck with your project, it looks great!
I've replied here just in case anyone else had the same question, but I'll ping you an email now too. Hope this helps!
I know you said this can be used for anything, but does that include commercial game use?

Yep! Once you own the pack, these icons are commercial a-okay for whatever you wanna do!
(Except for reselling them on their own, obviously.)
Sweet, thank you! Do you announce anywhere when/if commissions open too?

Sadly I'm shutting commissions for the foreseeable future since I've got some pretty big, long-term jobs on the go, but keep an eye on my Twitter (@cazwolf) in case they ever open back up again! <3
Do you do commission work, Caz?
Hey Ravey! Not at the moment since I'm pretty booked full with work, but I might open up for commissions again in a few months. :D