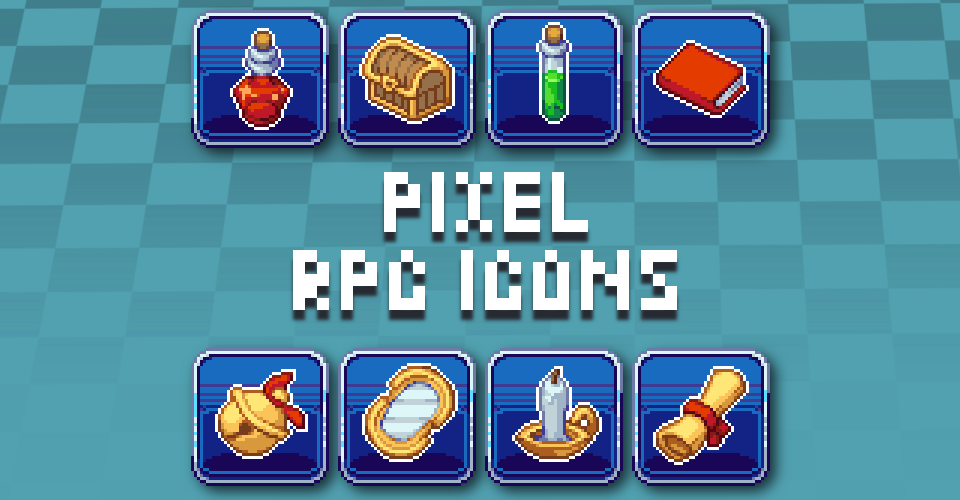 PIXEL FANTASY RPG ICONS
A downloadable asset pack
Get this asset pack and 4 more for $59.99 USD
View bundle
The screenshots show the original icons used in the RPG Maker MV RTP, and then another shot compared to the pack's pixel icons which give a lot more flavour and personality!
They can be used for any engine or any purpose, but they will match the requirements of RPG Maker.
The pack contains 87 different icons including:
Potions
Herbs and ingredients
Plants
Papers, envelopes, scrolls
Books
Candles and lanterns
Instruments
Various accessories and puzzle pieces
The icons are 32x32 each and are therefore compatible for RPG Maker MV's default item system. They can even be used in other makers as event icons.
However, they can be used for whatever you see fit - gamedev or otherwise!
Purchase
Get this asset pack and 4 more for $59.99 USD
View bundle
In order to download this asset pack you must purchase it at or above the minimum price of $16.99 USD. You will get access to the following files:
MV Icons PACK 1.zip
162 kB
Download demo
Comments
Log in with itch.io to leave a comment.
Will There be a 16x16 pack available anytime soon ?
Hi! Sadly I don't have any plans to make 16x16 icons in the near future as I prefer to work with 32x32, but I have a friend called Jacki who recently released a pack of smaller icons over here if they interest you! :>
I know you said this can be used for anything, but does that include commercial game use?

Yep! Once you own the pack, these icons are commercial a-okay for whatever you wanna do!
(Except for reselling them on their own, obviously.)
Sweet, thank you! Do you announce anywhere when/if commissions open too?

Sadly I'm shutting commissions for the foreseeable future since I've got some pretty big, long-term jobs on the go, but keep an eye on my Twitter (@cazwolf) in case they ever open back up again! <3
Do you do commission work, Caz?
Hey Ravey! Not at the moment since I'm pretty booked full with work, but I might open up for commissions again in a few months. :D