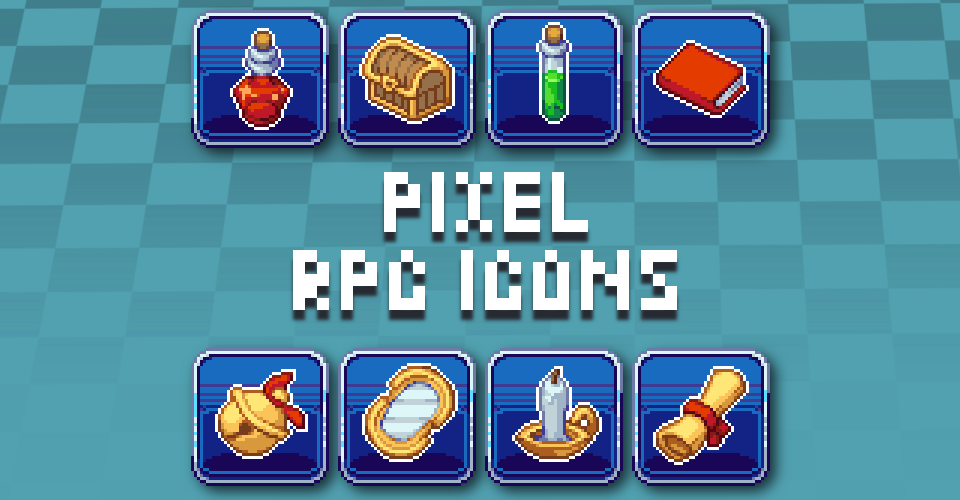 PIXEL FANTASY RPG ICONS
A downloadable asset pack
Get this asset pack and 4 more for $59.99 USD
View bundle
These icons can be used for any engine or any purpose.

The pack contains 87 different icons including:
Potions
Herbs and ingredients
Plants
Papers, envelopes, scrolls
Books
Candles and lanterns
Instruments
Various accessories and puzzle pieces
Each icon comes in three different sizes: 32x32, 24x24 and 16x16.
They can be used for whatever you see fit - gamedev or otherwise! Please read the Terms of Use when you download!
Purchase
Get this asset pack and 4 more for $59.99 USD
View bundle
In order to download this asset pack you must purchase it at or above the minimum price of $16.99 USD. You will get access to the following files:
MV Icons PACK 1.rar
433 kB
Download demo
Comments
Log in with itch.io to leave a comment.
Will There be a 16x16 pack available anytime soon ?
Hi! Sadly I don't have any plans to make 16x16 icons in the near future as I prefer to work with 32x32, but I have a friend called Jacki who recently released a pack of smaller icons over here if they interest you! :>
Good news! I'm trialing out how popular 16x16 and 24x24 versions of my icons will do, so you can re-download the pack to get access to the new sizes. :D
I know you said this can be used for anything, but does that include commercial game use?

Yep! Once you own the pack, these icons are commercial a-okay for whatever you wanna do!
(Except for reselling them on their own, obviously.)
Sweet, thank you! Do you announce anywhere when/if commissions open too?

Sadly I'm shutting commissions for the foreseeable future since I've got some pretty big, long-term jobs on the go, but keep an eye on my Twitter (@cazwolf) in case they ever open back up again! <3
Do you do commission work, Caz?
Hey Ravey! Not at the moment since I'm pretty booked full with work, but I might open up for commissions again in a few months. :D