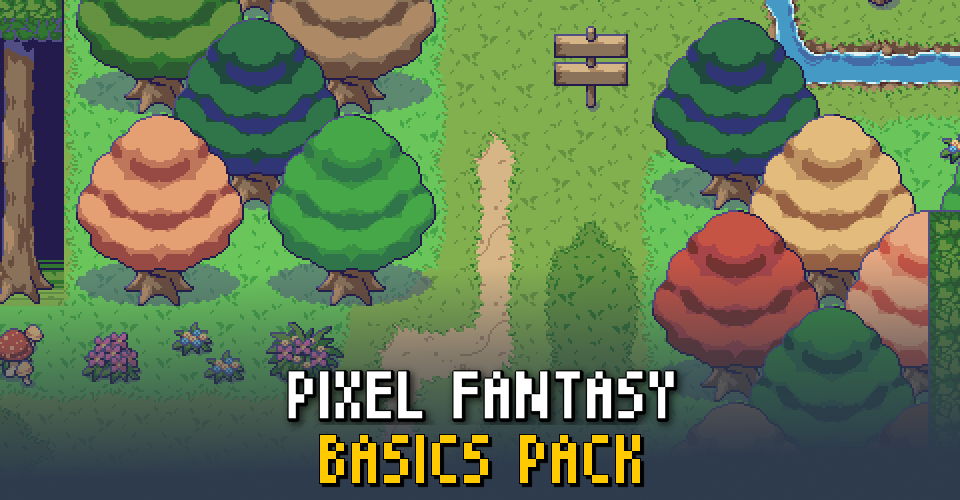 PIXEL FANTASY TILES - Basics Pack
A downloadable asset pack
These assets are designed to complement the Pixel Fantasy icon series, using the same palette to create more cohesion between the assets in your games!
The tiles are 48x48 in size which makes them perfect for RPG Maker MV/MZ, but you may use them in any engine or for any other purpose.
THIS PACK IS FOR ENGINE-FREE USERS. THIS PACK IS COMPLETELY FREE FOR COMMERCIAL USE.
----------------------------------------------------------------
The download contains two versions of these tiles: one with the original palette, and one with a slightly desaturated palette for darker games.
You can read the full Terms of Use/EULA here.
Download
Click download now to get access to the following files:
Pixel Fantasy Basics Pack.zip
2 MB
Comments
Log in with itch.io to leave a comment.
This will work very nicely for Solarus or a 2D Godot project.
I don't remember if I commented on the RPG Maker version of these tiles, but I'm always so impressed with your pixel art!!! It has this cozy yet nostalgic feeling that I find so inviting!
Hey Caz! Been a fan of your work for quite some time now :D
Still a bit of a noob so sorry but I'm a little confused on what "engine-free" means. Does that mean irrespective of engine / not engine specific? Or am I misunderstanding?

Hey, thank you so much! :D Engine-free basically means you can use it for whatever you want, so you're not restricted to just using RPG Maker/Unity/Godot/whatever. I hope that helps!
You're very generous to make this free 💚