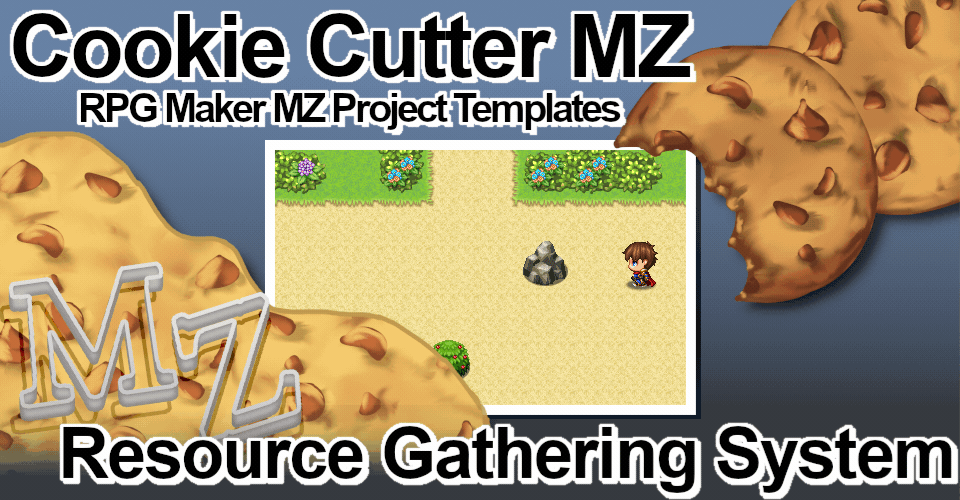 Cookie Cutter MZ - Resource Gathering System
A downloadable asset pack
Get this asset pack and 6 more for $29.99 USD
View bundle
Do you struggle to event complex systems for your RPG Maker MZ games?
Do you wish that you could just copy and paste a system into your game, and then customize it yourself?
Eventing in RPG Maker MZ can be difficult for a lot of beginners, and sometimes even veteran RMers struggle to visualize solutions to their problems.
But now you can just copy and paste from a template, with Cookie Cutter MZ! Simply open the template project and copy over the relevant files, or you can even use the project as a base to start your own game!
It's as easy as reading the instructions below which will tell you what files you will need to copy into your own game, and then hitting play!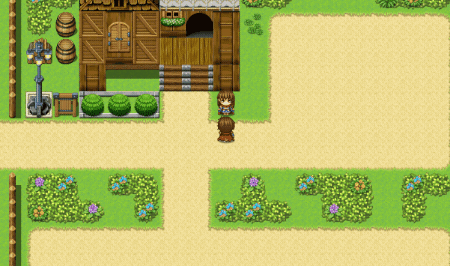 COOKIE CUTTER MZ - RESOURCE GATHERING SYSTEM
Want a way to let the player interact with their environments? Does your player need to gather resources to craft and build in your game?
Use the Resource Gathering System to spawn trees, logs, rocks and bushes, and customize your own forageable items! The player will need to strike these items a predetermined amount of times in order to break it and collect resources.
You can determine a region in your project where these items will be able to spawn.
INSTALLATION INSTRUCTIONS:

- 
THIS PROJECT REQUIRES VISUSTELLA CORE ENGINE AND EVENTS & MOVEMENT CORE. PLEASE FOLLOW VISUSTELLA'S INSTALLATION INSTRUCTIONS AND REFER TO THEIR TROUBLESHOOTING GUIDE FOR PLUGIN ISSUES. PLEASE ALSO ENSURE NONE OF THE PLUGINS IN YOUR PROJECT CONFLICT WITH VISUSTELLA'S PLUGINS BEFORE PURCHASING. 
-
ALWAYS MAKE SURE TO BACK UP YOUR EXISTING PROJECT BEFORE INSTALLING NEW FEATURES OR PLUGINS. 
-
1. Open the Resource Gathering System file in RPG Maker MZ.
-
2. Copy the following Common Events into your project's database: 
ID: 151 - Foraging Animations
-
3. Reserve the following switches, variables, and regions for use by the Blackjack Minigame. You can name them to RESERVED or choose custom names to ensure you do not use them for anything else.
Variables: 239, 405
Region IDs: 98
Items: 1035, 1036, 1037
-
4. Copy Map 1 into your project and set up the events as Event Templates as shown in VisuStella's Events & Movement Core plugin.
-
5. Use the Region Tab to paint forageable tiles with Region 98. Following EV001 on MAP002, you can spawn trees, rocks and bushes into tiles with Region 98.
-
6. Following the example in EV006 on MAP001, set up new forageables with customizable "damage" levels.
-
7. Follow the comments in the project's event files to customize the system's appearance. 
-

TERMS OF USE:

1. This template may be used in free or commercial games. 
- 
2. You are NOT allowed to redistribute this template outside of playable game projects intended for entertainment purposes.  
- 
3. These template files are not to be used in commercial projects without being purchased from the above itch.io profile. 
-
Purchase
Get this asset pack and 6 more for $29.99 USD
View bundle
In order to download this asset pack you must purchase it at or above the minimum price of $4.99 USD. You will get access to the following files:
Cookie Cutter MZ - Resource Gathering System.zip
15 MB