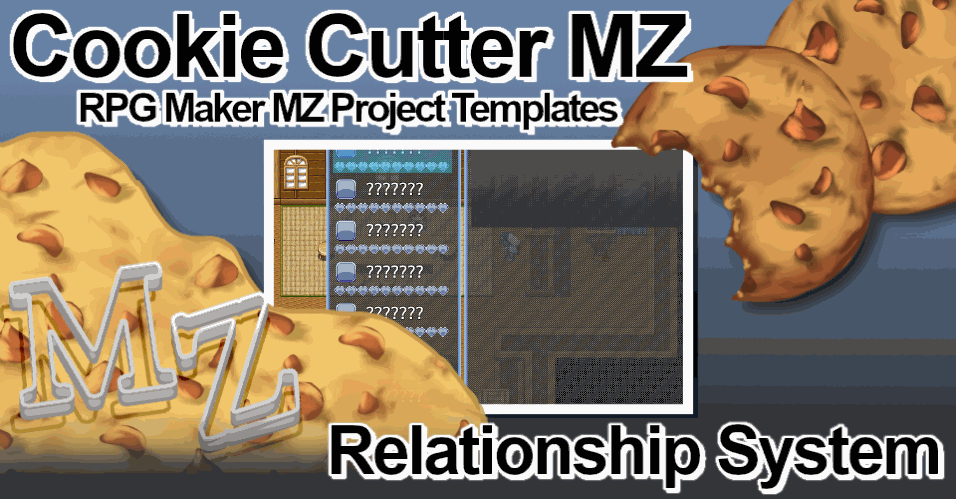 Cookie Cutter MZ - Relationship System
Do you struggle to event complex systems for your RPG Maker MZ games?
Do you wish that you could just copy and paste a system into your game, and then customize it yourself?
Eventing in RPG Maker MZ can be difficult for a lot of beginners, and sometimes even veteran RMers struggle to visualize solutions to their problems.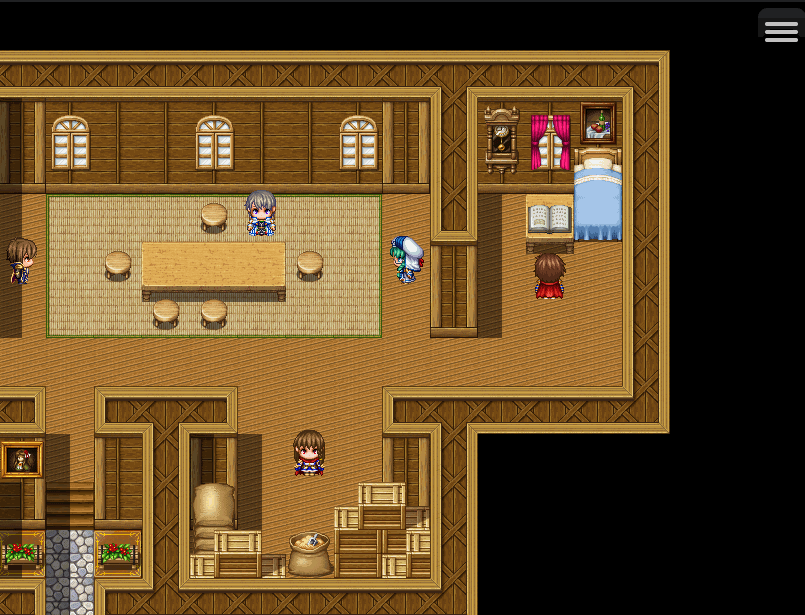 But now you can just copy and paste from a template, with Cookie Cutter MZ! Simply open the template project and copy over the relevant files, or you can even use the project as a base to start your own game!
It's as easy as reading the instructions below which will tell you what files you will need to copy into your own game, and then hitting play!
COOKIE CUTTER MZ - RELATIONSHIP SYSTEM
Want to change how the player interacts with their party, or other important characters in your game?
Cookie Cutter MZ - Relationship System gives you access to a menu through a bedside journal, that details up to 7 characters that the player can meet, with an icon, name, large image and a short bio about them, as well as how close they feel to the main character on a scale of 1-10.
You can also utilize colored heart icons to display next to a character's name when they speak, to show how they feel.
This template shows how to increase a character's affection through talking and gifts, and you can tweak these numbers to fit your project, or completely adjust how a player can gain Relationship EXP! Maybe they can only be given gifts once per in-game day? Or perhaps relationships can only advance through story events? It's yours to customize!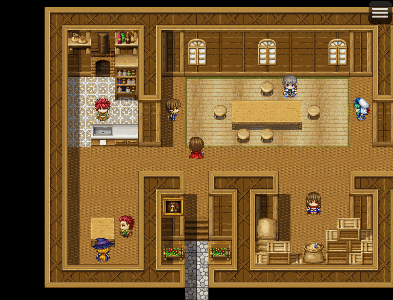 INSTALLATION INSTRUCTIONS:

- 
ALWAYS MAKE SURE TO BACK UP YOUR EXISTING PROJECT BEFORE INSTALLING NEW FEATURES OR PLUGINS. 
-
1. Open the Relationship System game file in RPG Maker MZ.
-
2. Copy the following Common Events into your project's database: 
ID: 120 - Show Relationship Menu
ID: 121 - Heart Level Calculator
ID: 122 - Relationship Menu Selection
-
3. Copy the following Items into your project's database: 
ID: 1014 - Shiny Gem
ID: 1015 - Soft Yarn
ID: 1016 - Cup of Tea
ID: 1017 - Bright Flower
ID: 1018 - Rare Coin
ID: 1019 - Fresh Eggs
ID: 1020 - Pretty Shell
-
4. Reserve the following switches, variables, and pictures for use by the Relationship System. You can name them to RESERVED or choose custom names to ensure you do not use them for anything else.
Variables: 244, 245, 246, 247, 248, 249, 250, 251, 252, 253, 254, 255, 256, 257, 258, 259, 260, 261, 262, 263
Switches: 215, 216, 217, 218, 219, 220, 221, 222
Picture IDs: 12, 13, 14, 15, 16, 17, 18, 19, 20, 21, 22, 23, 24, 25, 26, 27, 28, 29
-
5. Install the TextPicture plugin (added to your folder when you create a new project) into your Plugin Manager.
-
6. Copy the img>pictures and img>system folder to your project.
-
7. Copy the in-game events on Map ID 001 and change the dialogue and variables to fit your own characters. 
Event ID 001 is the Journal event, which shows how to call the Relationship System menu. This will not stop other events, so make sure that it is either in a safe place for the player, or that other events' effects are turned off when the menu is open.
-
8. Follow the comments in the project's event files to customize the Relationship System. You can also edit the items in the database. The appearance of the characters and graphics can be edited by using image editing software to change the corresponding files in img>pictures to how you would like the menu to look. Your custom images should be the same size as the ones in this template, but they can be edited to a different size if you are confident in editing the variables inside the project which change the pictures' positions.
-

TERMS OF USE:

1. This template may be used in free or commercial games. 
-
2. You are NOT allowed to redistribute this template outside of playable game projects intended for entertainment purposes. 
-
3. These template files are not to be used in commercial projects without being purchased from the above itch.io profile.
-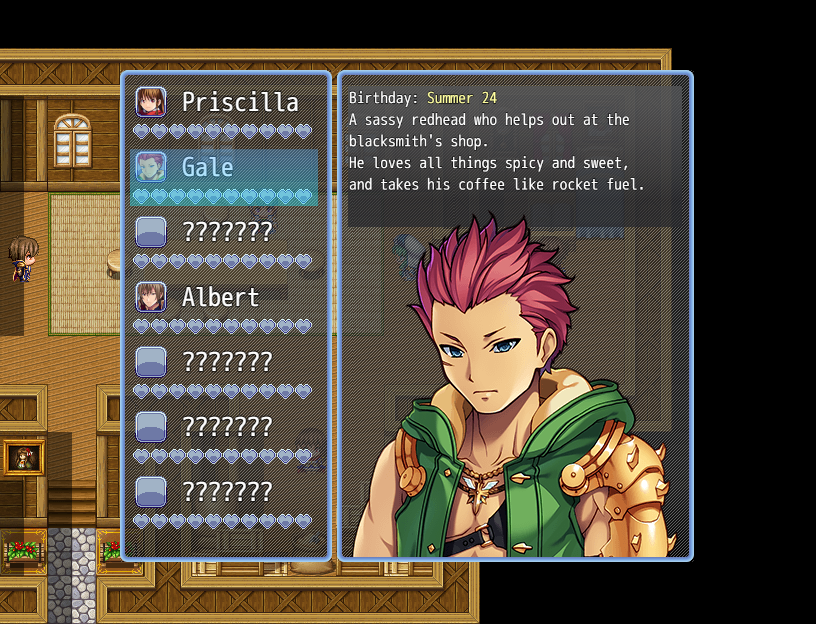 RELATED ASSETS:


Purchase
In order to download this template you must purchase it at or above the minimum price of $4.99 USD. You will get access to the following files:
Cookie Cutter MZ - Relationship System.zip
15 MB