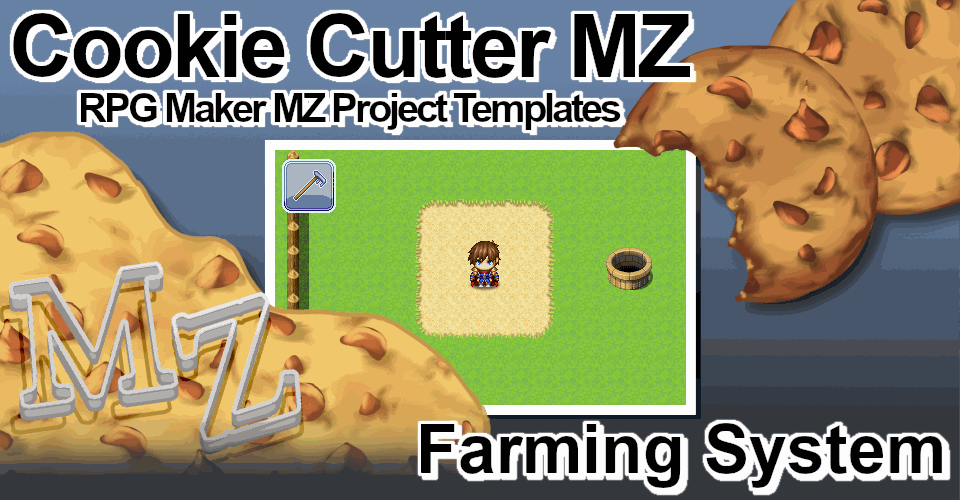 Cookie Cutter MZ - Farming System
Do you struggle to event complex systems for your RPG Maker MZ games?
Do you wish that you could just copy and paste a system into your game, and then customize it yourself?
Eventing in RPG Maker MZ can be difficult for a lot of beginners, and sometimes even veteran RMers struggle to visualize solutions to their problems.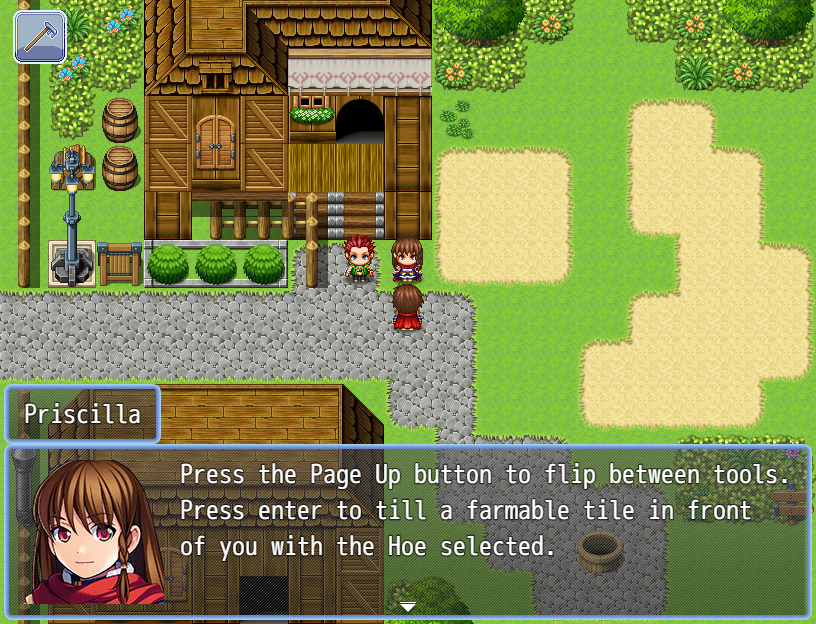 But now you can just copy and paste from a template, with Cookie Cutter MZ! Simply open the template project and copy over the relevant files, or you can even use the project as a base to start your own game!
It's as easy as reading the instructions below which will tell you what files you will need to copy into your own game, and then hitting play!
COOKIE CUTTER MZ - FARMING SYSTEM
Farming systems are a great way to add relaxing gameplay to your project. They can be utilized as a small side feature as a system that evolves over time, or even be used as the most significant aspect of gameplay!
With Cookie Cutter MZ's Farming System, the player must use a Hoe to till specific ground tiles. They must then select which Seeds to plant using a handy user interface in the top left corner, and press CONFIRM while standing on tilled ground to plant them.
They are also given a Watering Can which can be filled using an event, pictured in this demo as a well, and press CONFIRM while standing over crops to water them for the day.
After sleeping until the next day, the crops will reach the next stage of growth, until they are finally big enough to harvest.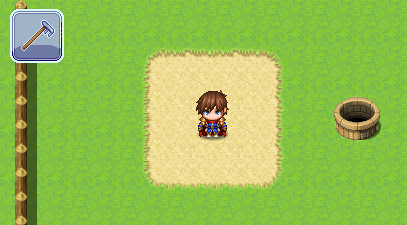 INSTALLATION INSTRUCTIONS:

-
THIS PROJECT REQUIRES VISUSTELLA CORE ENGINE AND EVENTS & MOVEMENT CORE. PLEASE FOLLOW VISUSTELLA'S INSTALLATION INSTRUCTIONS AND REFER TO THEIR TROUBLESHOOTING GUIDE FOR PLUGIN ISSUES. PLEASE ALSO ENSURE NONE OF THE PLUGINS IN YOUR PROJECT CONFLICT WITH VISUSTELLA'S PLUGINS BEFORE PURCHASING.
-
ALWAYS MAKE SURE TO BACK UP YOUR EXISTING PROJECT BEFORE INSTALLING NEW FEATURES OR PLUGINS.
-
1. Open the Farming System game file in RPG Maker MZ.
-
2. Copy the following Common Events into your project's database: 
ID: 116 - Till Ground
ID: 117 - Tools UI
ID: 118 - Player Animations
ID: 119 - Overnight Crop Growth
-
3. Copy the following Items into your project's database:
ID: 1004 - Watering Can
ID: 1005 - Carrot Seeds
ID: 1006 - Carrot
ID: 1007 - Cabbage Seeds
ID: 1008 - Cabbage
ID: 1009 - Wheat Seeds
ID: 1010 - Wheat
ID: 1011 - Grape Seeds
ID: 1012 - Grapes
ID: 1013 - Hoe
-
4. Reserve the following switches, variables, and regions for use by the Farming System. You can name them to RESERVED or choose custom names to ensure you do not use them for anything else.
Variables: 236, 237, 238, 239, 240, 241, 242, 243
Switches: 210, 211, 212, 213
Region IDs: 97
Picture IDs: 21
-
5. Copy Map 1 into your project and set up the events as Event Templates as shown in VisuStella's Events & Movement Core.
-
6. Copy the events on Map 2 for a water source for the Watering Can, as well as a way to pass time until the next day. Follow the comments in these events to learn how to best fit them into your own project.
-
7. Copy the IconSet in img>system if you wish to use this project's icons, and please refer to their Terms of Use in the same folder.
-
8. Copy the images in img>pictures to your project.
-
9. Use the Region Tab to paint farmable tiles with Region 97. When the player owns a Hoe and presses CONFIRM next to these tiles, they will till the ground.
-
10. Follow the comments in the project's event files to customize the Farming System. You can add your own crops, and adjust how many days it takes to grow each crop. You can also customize which buttons are used to navigate through the Tools UI, or till the ground.
-

TERMS OF USE:

1. This template may be used in free or commercial games. 
-
2. You are NOT allowed to redistribute this template outside of playable game projects intended for entertainment purposes. 
-
3. These template files are not to be used in commercial projects without being purchased from the above itch.io profile.
-
4. PLEASE REFER TO VISUSTELLA'S TERMS OF USE FOR THE PLUGINS USED IN THIS PROJECT.
RELATED ASSETS:


Purchase
In order to download this template you must purchase it at or above the minimum price of $4.99 USD. You will get access to the following files:
Cookie Cutter MZ - Farming System.zip
12 MB